Puppy Nedick steps up to the mound once more in Gary Morgenstein's A Fastball for Freedom, a thrillingly unique dystopia in which the joy of baseball is one of freedom's greatest weapons.
In a world where laws restrict nearly every move people make, baseball pitcher Puppy Nedick and his ex-wife Annette are on the run. Branded by their government as American traitors and murderers, they and their friends must now navigate the chaotic remnants of London.
As Puppy faces an uncertain future run by secret police, robots, and holograms, he is determined to save the world using the only weapon he has—baseball.
"A Fastball for Freedom is a Field of Dreams in a nightmare landscape of darkness."

Victor Acquista, author of Serpent Rising
---
Q&A With Gary Morgenstein
What inspired you to write The Dark Depths series?
My wife and I were having Sunday breakfast of everything bagels with a shmeer while listening to The Beatles and the idea popped into my head: What about a novel where baseball faces its last season ever in a dystopian America? As the great Jackie Gleason would say, "And away we go." Baseball and science fiction are my two loves. In an earlier life I was Director of Communications at the Syfy Channel where I became the mad PR genius behind the Sharknado global phenomenon. I've got cameos in Sharknado 2 and Sharknado 3! I'm also a political junkie and a history buff, so this was the perfect literary storm. The beauty of writing dystopian science fiction is that you build upon existing events and take them to that next terrifying, thought-proving level, like Orwell's 1984 or Bradbury's Fahrenheit 451, along with a healthy dose of Philip K. Dick. The greatness of dystopian science fiction is asking "What if?" I insist on writing real people, not sloganeering symbols. Even in the worst of times, people respond to basic needs and basic impulses. During the London Blitz, the birthrate soared. Hello. Humans don't give up and I wanted to explore how they'd live and perhaps change these frightening circumstances.
This is a brand new society that you've created in A Fastball for Freedom—even talking about God is a crime. What are the rules and regulations in this society?
I've created a unique world where there are no distinctions by sex, race, sexual preference, ethnicity, etc. All that matters is that we have a society based on love and ethics, led by The Family, which governs America from the Bronx (Washington was nuked and Manhattan eviscerated by chemicals during the war). What if it didn't matter what you were as long as you loved someone? What if you ran a business without cutting someone's throat? Moral capitalism, anyone? What if the most trusted professions were cops (gasp), teachers and doctors because if you can't trust them, who can you trust?
Your series is clearly unique with its blend of sports and dystopian science fiction. Why did you choose to blend these together?
I don't know of many other dystopian baseball novels. With good reason given the sport's fading popularity, sci-fi writers don't think baseball will make the cut into the future, although there was a baseball story line in an episode of Star Trek: Deep Space Nine. I saw the best way to blend the two contradictory genres was presenting baseball as associated with old-time America and, if those national values are discredited, so would the game. As a baseball purist, I worry about the future of baseball. I don't get it. There is no sport as magical as baseball. I hope my love for the game comes through to readers.
What do you do when not writing?
Does a writer ever really stop writing? Even when we're away from the screen, the story and characters accompany us. That scene still doesn't work. Why'd I use that word. Oh my God, no one will like this. There's a reason why we write. Because we must. Yes, it sounds a little nuts, but show me a well-adjusted novelist and I'll show you an accountant. Still, writers do require rec time. I'm an avid reader which is essential to creativity. It's all about learning and sharing, putting your knowledge and experiences through the mental processor. I love science fiction novels, a good thriller, and I'm a huge history buff and political junkie. Now I'm in rehab post-election. I watch basketball and, of course, baseball, wistfully hoping to someday return to my beloved Yankee Stadium and clog my valves with franks and fries. I also practice yoga virtually five times a week. Like the rest of the planet, I binge Netflix. And I take care of my beloved pug who is my muse. That's pretty busy considering I really can't go anywhere.
What's next in the series?
Book Three, A Dugout to Peace, where I wrap it all up. I'm too neurotic share any potential spoilers so I'll just leave it there.
"Reading Fastball felt as if Gary Morgenstein acted as a visionary who is straddling present and future. This book was even better [than A Mound Over Hell, the first book in the series]…"

Ilil Arbel, author of the Madame Koska Mysteries
---
Read more about Puppy's adventures in the first book of the series, A Mound Over Hell.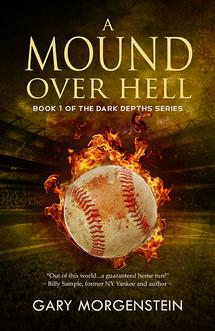 ---
About the Author:
Gary Morgenstein is the critically acclaimed author of The Dark Depths series (A Mound Over Hell, A Fastball for Freedom), a unique dystopian science fiction baseball saga. He has appeared on several podcasts and science fiction roundtables at the popular Fan Boy Nation and Fellowship of Fools.

An accomplished playwright, his humorous new play about racial harmony, A Black and White Cookie, is slated for premiere in 2021. He is also the author of the stage dramas Saving Stan, A Tomato Can't Grow in the Bronx, and the off-Broadway sci-fi rock musical The Anthem.

His work has been featured in The New York Times, Entertainment Weekly, Parade Magazine, The New York Post, Sports Illustrated, Fox News Radio, and NPR.

He enjoys sports, yoga, and taking care of his beloved pug. Gary lives in Brooklyn, New York, with his wife, playwright-director-theater critic Marcina Zaccaria.
Available From: